Winsford Town Park & Wharton Allotments. Winsford.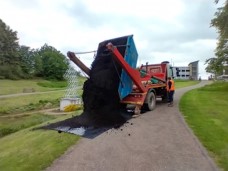 Background of works: Northwich Skip Hire were approached in April 2021 by two Winsford community groups as they required a reliable local company to complete 2 collections of soil improver approx. 10 ton in total from the Gowy Waste Facility, Chester and deliver them to 2 different sites in Winsford – Winsford Town Park and Wharton Allotments. The soil improver is made at the Gowy site from composted garden waste.
Key Challenges:  Site access for the Winsford Town Park Site was challenging due to the location. Northwich Skip Hire used the expertise of our team to carry out a risk assessment of the site, prior to delivery so that we were confident that the delivery went smoothly.
Delivery Deadlines: Northwich Skip Hire liaised with the Winsford community groups to work out the best delivery date for both deliveries. Northwich Skip Hire completed both collections and deliveries within the deadlines.
Client Testimonial: "Northwich Skip Hire fully understood the different needs and access issues of both Winsford sites, and liaised closely with the client to ensure the material was collected and delivered as requested. We would have no hesitation in recommending Northwich Skip Hire."
ENCIRC CASE STUDY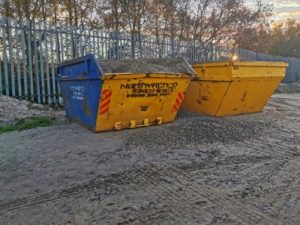 Background of works:  Northwich Skip Hire have developed a working relationship with Encirc to complete works from various areas of there Ellesmere Port site.  From April 2020 Northwich Skip Hire started servicing the Encirc contract to exchange a variety of on site skips ranging from Glass Dust, Glass Sand and Sludge,  Our current working contract provides 4 x 8-yard skip exchanges a week.  Occasionally Encirc ask us to complete adhoc skips for other areas of the site.
Key Challenges:  Servicing the Ellesmere Port area wasn't an area we would normally have covered.  We found having just 2 vehicles wasn't adequate enough and found ourselves purchasing another vehicle so that we could reliably service our commercial partners.
Delivery Deadline: Northwich Skip Hire service Encirc 4 times a week.